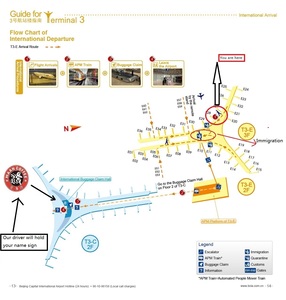 Beijing is the capital of China with many famous tourist attractions, so is very worth to see something such as Great Wall of China and Forbidden city if you have a layover in Beijing airport. But since there are a lot of people in Beijing, and that make long lines everywhere, so booking a tour in advance is very important to make sure you will have everything well-prepared and don't have to wait after your arrival.
Here are some common questions that people may concern:
1. How do I find you in Beijing airport?
As Beijing is a big city in China, so airports here are pretty huge, so we normally give our customers an airport map with detailed walking path to the meeting place. So you don't have to ask directions after get off the plane, and don't worry you would be misled by people since less people can speak English there.
In order to let you see Beijing as much as possible, you will leave airport RIGHT AFTER you meet the guide at the meeting place, that is much better than finding a tour upon arrival and waiting in a line for tour arrangement on-site, that would make you tired and your time would be wasted.
2. Is the traffic bad in Beijing?
Of course, the traffic in Beijing is bad. Because there are about 23 million people in Beijing. So we need to plan a trip with addtional time for traffic jam. So if your layover is tight, an advanced booking is highly recommended. And of course we will drop you at airport on time if you go on a tour with us :-)
3. Is there anyone available to chat online just in case our flight would be delayed?
Yes, of course. We have tour assistant online for answering questions. Such as what to eat in Beijing? what to see in Beijing? How to obtain a visa quickly? How to find guide in Beijing airport? Your guide name? If your flight is delayed or if you would be denied by visa desk. You will have somebody support online right after you book a tour with us, so that would make your trip more easy.
4. Should I pay for the tour in advance?
Yes, we normally need 30% prepayment to make sure you will go with our tours. But if you would not get 24 hours visa or other Non-subjective factor like bad weather, we will refund your money. So you don't worry at all about losing your money.
5. Can we have tickets reserved in advance?
Yes, we will book tickets in advance. So you don't have to wait in a long line for tickets purchase.
6. Do we have same driver / vehicle all day?
Yes, we arrange a fixed driver / vehicle just for you or your family. Your driver and vehicle will not serve others at same time. So you don't worry your driver would pick up others when you leave the vehicle. Your driver will just wait at parking lot.