Beijingairporttours.com not only offers our clients the excellent Beijing airport transfer and tour services, but also provides
our honorable guests reliable business vehicles for business needs. The vehicles are all in good condition and well-equipped.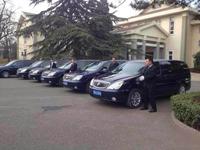 Our drivers are very professional with more than 10 years driving experiences for serving foreign visitors and government meetings. They're polite and well
behaved and always maintain the vehicle in a clean environment. Here're our vehicles:
1-2 persons, PASSAT or Toyota Camry or Nissan Teana,
3-5 persons, Buick GL8 business van,
3-8 persons, Toyota Hiace or MB business van
8-18 persons, Toyota Coaster
18-55 person, Yutong or Kinglong bus.
We also offers Audi A6 and Mercedes S350 for our clients who designate these vehicles with higher payment. Welcome to contact us to rent a vehicle for your tour or business trip in Beijing.