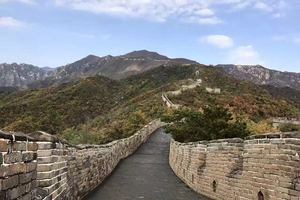 The Mutianyu section of the Great Wall is situated in Huairou District, about 70km from Beijing. As one of the most popular restored great wall sections in Beijing, Mutianyu offers a relaxing journey to a higher point of the great wall by cable car service. Upon arrival, you may enjoy a stroll along the long stretch of the great wall. Later, you may either choose to walk down the steps to the bottom of the mountain or take another exciting Mutianyu Great Wall Toboggan down the hill.The architecture of Mutianyu Great Wall is of a special style in that it has more watchtowers than any other section and was constructed with defensive battlements on both sides of the wall, rather than just facing to the north, as with most other sections. A pass is located at the southeast of the site, with one gate tower as well as two flanking watchtowers, a feature fairly rare in the Great Wall. To the northwest, there is a section called the Ox Horn Edge, built at over 1000 meters above sea level. The Arrow Buckle and Flying Eagle Facing Upward sections built on the steep mountain peaks are especially impressive.
The Mutianyu Great Wall Travel Area is surrounded mountains and has forest coverage of around 90%. As such, it's year round scenery it enjoys the reputation of being one of the most beautiful areas of the Great Wall.


For travellers who are unable or unwilling to take the steep path from the foot of the hill to the wall there is a cable car. At the foot of the hill lies the Great Wall Mountain Lodge, a second-grade hotel that can sleep one hundred guests at a time.


Another site of interest at Mutianyu is the Chinese Dream Stone City, which has gathered rare stones and extracts collected from all over the country. Of interest to the more adventurous may be the wheeled toboggan ride that takes visitors from the top to the bottom of the hill on a long metal slide.
The transportation to Mutianyu Great Wall Travel Area is quite convenient. The No.6 dedicated Line Bus runs from Beijing to Mutianyu Great Wall, departing from Xuanwumen and Dongsishitiao, directly reaching the travel area. Travellers can start from Capital Airport toward north, and go through Jing-Mi Expressway, then turn left at Yingbing North Ring Island in Huairou and finally reach the travel area.
Tours with Mutianyu Great Wall included:
B‍eijing airport to Mutianyu Great Wall tour

Beijing a‍irport to Mutianyu Great Wall and Forbidden city tour