For Business Travelers
The airport has fee-WiFi but you need to get a username and password. For foreign visitors without mainland mobile phones you should approach the information desk or call the WiFi service hotline on 400-003-5060. The airport has currency exchange points throughout the terminals. For business people there are Business Centers in all three terminals where you can get extensive business services like photocopying, faxing, Internet and printing. There are mobile phone rental stations in terminals 2 and 3.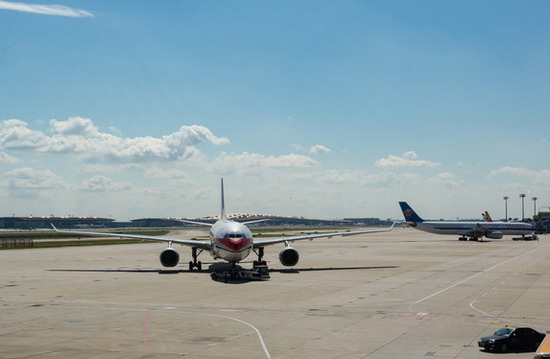 Recreation and Leisure
At Digital Recreation stations set up in terminal 2 and 3 you can access free WiFi, free XBOX, free audio-video, digital photos and other forms of digital entertainment.
The Staff Art Troupe Performs song, dance and magic on an irregular basis near the terminal 3-E fountain from 10am-2pm. At the Terminal 3-E Suzhou Garden and Royal Garden you can get fish food from the staff (9am-3pm) to feed the fish in the pond.
Kids Activity Zones are set up in all three of the terminals to provide a fun area to play. There are often staff dressed up in cartoon costumes. In these activity areas there are games and toys for kids.
Pampering
In Terminal 1 you'll find a 24 hour fitness center. If you would like to use the facilities of the Hilton's indoor heated swimming pool, spa and gym you can take their free shuttle to and from the airport in as little as a minute. The shuttle leaves every 15 minutes to terminal 3 (Gate 5 ground floor) and every 30 minutes to Terminals 1 and 2 (Gate 7 ground floor of Terminal 2). For services between 23:30 and 7:00 call and make a booking. If you would like a foot massage visit Foot Road, open 7:00-23:30 at Gate 28, Domestic Departure Waiting Area Terminal 3. The airport also has special areas for moms with babies who need space to change diapers, feed etc.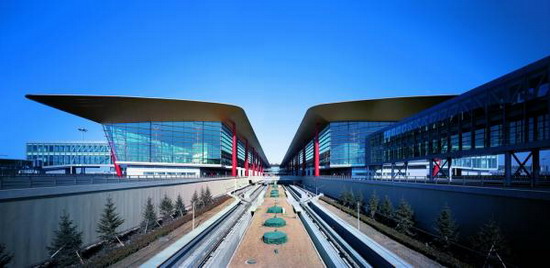 Resting
If you want a quick rest then use the pay-by-the-hour Hourly Lounge. Here you can relax in peaceful surroundings. These lounges in all three terminals offer hotel-like rooms with showers as well as other services like conference rooms and wake-up calls.

Leaving the Airport
If you have a long layover you can use the time by taking a layover tour to some of the top attractions in Beijing. With a 6-10 hour layover you could take a tour to the Great Wall of China, the Forbidden City, Temple of Heaven and more. The airport is located just a 30-60 minute drive from the city center (depending on traffic) or a 16 minute ride on the Beijing Airport Rail Link.


Beijing Airport Terminal Guide
There are total 3 terminals at Beijing airport: T1, T2 and T3. T1 was opened in on Jan. 1, 1980. It was mostly for domestic flights of China Southern Airlines and some international flights to and from Beijing. T2 is much bigger than T1 in size and very close to T1. On Nov. 1, 1999, T2 was opened mainly for domestic flights of other airlines and some international flights. T3 is one of the world's most advanced terminal, which is the achievement of USD4.6 billion investment. If you need a guide to tour around the Beijing airport terminals, just kindly contact us for the airport guide services. The full operation of T3 started on March 26, 2008. Currently, it houses both domestic and international flights.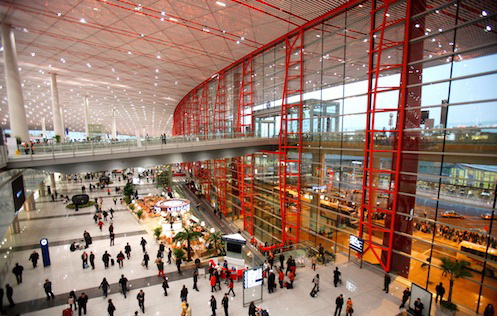 Beijing Capital Airport Terminal 3 T3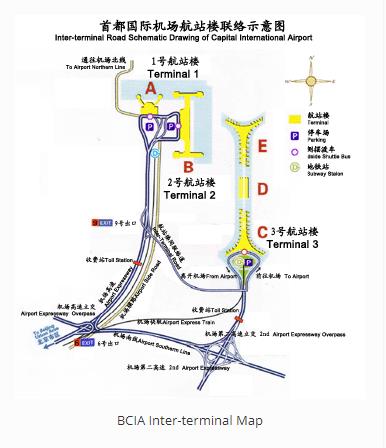 Airport FAQ