Price of this Beijing Layover Tour
Number of Person

Tour Rate/person

Booking

10 & above persons
US $65
9 persons
US $70
8 persons
US $75
7 persons
US $80
6 persons
US $85
5 persons
US $90
4 persons
US $95
3 persons
US $115
2 persons
US $135
1 person
US $250
Tour Duration: 7 Hours
Tour Schedule:
Picking up at the Beijing Daxing International Airport based on your given flight details. (Pick up time: 2 hours after your flight arrival time. The earliest pick up time is 6:30am & the latest pick up time is 12:00pm). We will hold a sign with your name written on while waiting at the customer's exit. Upon meeting on the spot, drive straight from Beijing Airport to the Great Wall at Mutianyu (1-2.5 hours drive)-the prettiest section in Beijing. After arrive at Mutianyu Great wall, you can hike up or take the cable car instead, then enjoy hiking on the wall for 1-2 hours or so. Then drive back to the Daxing Airport. Lovely tour ends. The whole trip will last for about 7 hours.
Note 1: No tourist trap and no hidden fees! We value for your money and will not arrange any tourist shop during the trip.
Note 2: Counting from your flight (international) lands at Beijing airport to meet us at the exit will take about 1 hour. It includes such procedures as follow:
1. Flight arrival;
2. Inspection & Quarantine (24-144 hour free visa application);
3. Baggage claim (could be ignored by layover passengers);
4. Customs inspection;
5. Leaving the airport & meet us;
To learn more, please read our customer's life experience at Beijing airport here!
Note 3: To make your arrival easier & faster, please check our international arrival map.
Tour Includes
Round trip airport transfers by private vehicle (A/C)
Good English speaking tour guide service
Entrance fee to the Mutianyu Great Wall & shuttle bus fee at Great Wall
Free-bottled mineral water in the vehicle
Tour Excludes
Any meals
Option: Toboggan slide at Great Wall (RMB120/pp-Chinese RMB in cash only)
Tips to the driver guide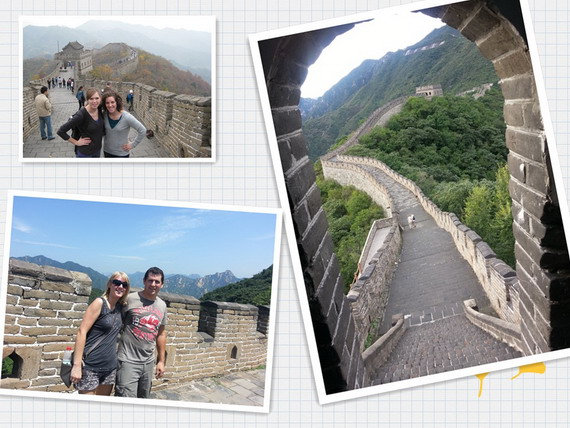 Things to know:
A. Mutianyu Great Wall opens from 8am to 5pm, and is 2.5 hours drive from Daxing Airport to Great Wall(one way), so the earliest pick up time from airport is 6:00am; Since the whole tour last about 7 hours, so the latest pick up time from airport is 12:00PM. For example, if your arrival flight land at 3am, you need to wait your guide or driver at airport till the earliest pick up time 6:00am, then after the 7 hours tour, you will be dropped off at airport around 13:00pm, so your next flight must be later than 15:30 to make sure you have enough time to catch flight; If your arrival flight land at 8am, you will meet guide or driver at around 10am as it normally take about 2 hours to get out of airport.
B. To make the best arrangement of your great wall trip, please leave us your exact arrival and departure flight information.
C. Counting from the meet at the airport and drop-off back to the airport again, the whole trip will last for 7 hours or so. Plus the time (2 hours) to get out of airport, and the time to catch flight(2.5 hours), so it require 11.5 more hours between the two flight to make this trip happen.
D. Any cancelation would be made on travel date due to any unexpected reasons such as flight delay or visa issue, the prepaid tour charge will not be refunded.
F. Luggage will usually go with your connect flight to the destination. If you will have to carry them, you may have them locked in our car; it will be no problem.